Our team understands the very real emotional and financial challenges involved in all aspects of Family Law. We are ready to support, guide, and advise you throughout this process.
As people and parents, we have walked in your shoes and understand your journey. We are empathetic and compassionate, but we will be tough with you – and tougher with the other side – when necessary.
We Believe in
Understanding your particular situation and your goals.
Setting your expectations about the process, the timeline, and the possible results.
Keeping you informed about all developments in your case.
Advocating for you and being responsive to you.
Caring about you and your case as we would for our own families.
Carolyn T. Peacock, Attorney and Founder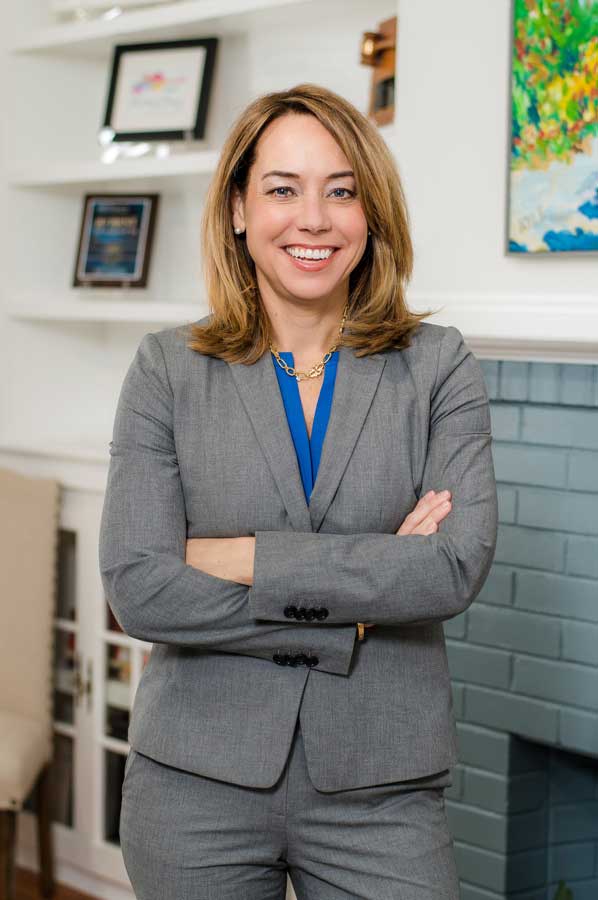 "I enjoy Family Law because my practice revolves around working with the family unit. I want my clients to believe the result we achieved was within their expectations, was accomplished with as little turmoil and stress as possible, and throughout the process my client felt they had the support and compassion of our office and staff."
Carolyn Peacock is an experienced and dedicated Family Law attorney who has practiced law for over 20 years. Carolyn became a Board Certified Specialist in Family Law in 2008. Board Certified Specialists must satisfy rigorous requirements including passing a 6 hour exam, continuing education, peer review, and the allocation of 25% or more of their practice to their speciality.
Carolyn truly stands apart amongst specialists because her practice is 100% devoted to Family Law.
Carolyn's Background and Experience
From Florida originally, Carolyn graduated from Florida State University in 1993. She then moved to North Carolina to attend Wake Forest Law School. North Carolina has been her home ever since.
Upon graduating from law school, Carolyn relocated to eastern North Carolina where she worked as Assistant District Attorney for Carteret, Craven, and Pamlico Counties. Her background in the DA's office provided her with a unique perspective as well as experience before the Court.
In addition to her Family Law Practice, Carolyn has served as Craven County's Child Support Attorney since 1998. She is Past President of the Craven County Bar Association and Past President of the 3B Judicial Bar Association. Carolyn is a Member of the North Carolina Bar Association, the North Carolina Bar Association Family Law Section, and the North Carolina Bar Association Family Law Council.
Carolyn enjoys traveling and spending time at the beach with her husband and her two teenagers.
After fighting for my son's life for years with other attorneys, God sends us this little lady wearing red, files in hand, leaving the Craven County courthouse. Ms. Peacock didn't sugarcoat or mince words. I tell you, though, once she saw the truth in me, she fought with a vigor rivaling David himself. She was not only my advocate but more importantly, she was an advocate for my little boy who by grace is graduating from HS this year with honors and college-bound. It was Carolyn's discernment, brilliant legal mind, and pursuit of the truth that made it possible. There is no quit in her. Others failed but she saw it through. She was a true blessing to my family and I would go to battle with Ms. Peacock in any clime and any place.
Semper Fi,
LtCol B
Karen Alexander Killingsworth, Attorney
"Nothing ever stays the same. People change. Feelings change. Marriages change. I will put my skills and my past experience to work for you to get you to the best possible outcome. I promise I will be a compassionate and attentive legal advocate for you. I promise I will work to the best of my legal ability to fight for what we think you deserve and what the law allows you to get."
On December 31, 2020, Karen Alexander Killingsworth retired as District Court judge after serving Craven, Carteret, and Pamlico Counties since 1998. As judge, Karen presided over hundreds of domestic cases and made numerous decisions affecting divorce and separation, division of property, child custody, and support.
Karen's extensive judicial experience means she is an expert on the applicable law and types of evidence needed to support many different claims for relief. Further, Karen knows how to see both sides of a case which allows her to properly advise her clients in each unique legal situation.
Karen's Background and Experience
Karen is a Pamlico County native. Her love for the County runs deep, so she still lives there today. Karen graduated from UNC-Chapel Hill and attended the Campbell University School of Law. Karen earned her law degree and was admitted to practice in North Carolina in August 1990.
As an attorney, Karen represented defendants, debtors, and those seeking relief in domestic cases in both State and Federal courts. She joined the District Attorney's office in 1996 as an assistant district attorney where she handled criminal district court cases in Craven and Pamlico courts.
Karen clearly stood out because she was appointed by Governor James B. Hunt in 1998 to fill a newly created judicial seat in that very same district.
Though Karen recently retired as District Court judge, her passion for the practice of family law burns as brightly as ever. It was a natural match for her to join Carolyn at Peacock Family Law and continue to serve the community she loves.
Karen enjoys listening to all types of music and singing in church with various choirs and the praise team. She also relishes time spent with friends and family.
I have known Karen for 24 years. We worked together in the 1990s as prosecutors before I began private practice and she was appointed as a district court judge. Karen has presided over hundreds of family law cases during her twenty plus years as a District Court Judge. She has always treated litigants kindly and with dignity. I found the manner in which she handled family law cases to be fair and impartial. Her years on the bench have allowed her to develop an in-depth understanding of North Carolina's family laws. She has not only her experiences as a judge, but also her life experiences as a mother, to rely on in representing clients in all types of family law matters.
Carolyn Peacock,
Attorney and Founder, Peacock Family Law
Becky Cole

Certified Paralegal
"Carolyn taught me so much in the 18 years we have worked together. She taught me to have patience and work hard. We all work great as a team as we are all passionate for Family Law. We also want to achieve the best results for our clients."
Becky is a career paralegal with an extensive background in Family Law. She earned the distinction of becoming a North Carolina State Bar Certified Paralegal in 2006. The North Carolina State Bar introduced the certification program "to provide a much-needed benchmark to ensure paralegal competency and enhance the quality of legal services provided by North Carolina paralegals." Becky is a shining example of what that certification represents.
Born in Harrisonburg VA, Becky moved to New Bern, NC in 1972. She earned an Associates Degree in Paralegal Technology, the NC State Bar Certified Paralegal program at Carteret Community College, on August 10, 1991. Becky met Carolyn while working as a Child Support Agent. She eagerly jumped at the chance to work with Carolyn as a Family Law Paralegal in 2005.
Becky has been an NC Notary Public since December 1992. In her spare time, Becky enjoys reading, attending concerts, spending time with her son, her family, her friends, and her two dogs.
Cathy Blair-Jones

Administrative Assistant
"Carolyn expects a lot from her team, but nothing more than she expects of herself. We work well together, playing to each other's strengths and shoring up each other's weaknesses. We always work towards the best resolution for our clients."
Cathy thought she wanted to be a teacher, but Carolyn is grateful that Cathy chose a different path. She transcribes Carolyn's dictation, does all billing, handles uncontested divorce cases and maintains files. Cathy has worked for Carolyn for more than 20 years. She's the cog that keeps the wheels turning at Peacock Family Law.
Cathy was born in South Hill, VA, and raised in Cincinnati, OH. She earned her Bachelor's of Science from Miami University in Oxford, OH. After student teaching in a high school setting, she realized teaching was not for her.
Cathy moved away from teaching to more secretarial duties with each successive job. She met the love of her life in Chicago – her now husband, Terry (Ret. MGySgt. – USMC). They married and eventually moved to New Bern, NC, where Cathy started working for Carolyn.
Cathy and Terry have four children between them. Terry has a daughter and son, and together Cathy and Terry have 2 sons. During her free time, Cathy enjoys reading, indulging in Hallmark movie marathons on Saturday with Terry, and playing Yahtzee with her youngest son.
Kim Cope

Certified Paralegal
"Carolyn is dedicated to her client's best interests. The way she stands up and fights for her clients is very impressive and is something that you definitely want to have on your side. She is hard working and strives for the best end result for each of her clients. The entire staff at Peacock Family Law has years of experience and will look out for your best interest."
Kim's introduction to the world of family law started all the way back in 1990. Kim started as a legal receptionist, but she quickly moved up the ranks to paralegal. Kim's extensive experience and passion for family law was just what the North Carolina State Bar was looking for when it introduced the paralegal certification program in 2006. Kim was awarded the honor of becoming a North Carolina State Bar Certified Paralegal in the early days of the program.
Kim is originally from New Bern and went to school in Havelock. Kim and Carolyn have known each other for about 20 years. Kim worked for Carolyn as a family law paralegal at another firm. So, when the opportunity arose in August 2020, Kim was excited to join Peacock Family Law.
Kim is laid back and enjoys spending time with family and doing home decorating and home improvement projects. Kim and her husband, AC, stay busy! She has five children that all live in the area, three of whom are still in high school. She also is the proud grandmama to four grandchildren.
It's time to move forward.
Let's have a conversation.